Private Feedback System
Kriddik is a private feedback & messaging system allowing your customers, guests, patients or members to share their experience directly with your business.
Comments are never posted publicly.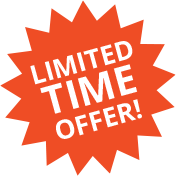 Limited Lifetime Charter Memberships
All the benefits of a premium Kriddik membership, including feedback dashboard, direct-to-customer messaging, exclusive charter member discounts, free promotional material, and any future premium enhancements. All for $100, the price of a single year!
Get My Membership!
Take Charge of Your Feedback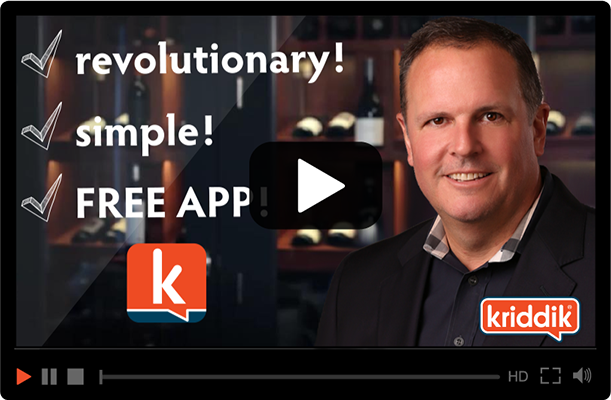 #1
78% of consumers have bailed on a transaction or not made an intended purchase because of a poor service experience.
American Express Survey
#2
A typical business hears from 4% of its dissatisfied customers.
"Understanding Customers" by Ruby Newell-Legner
#3
On average, loyal customers are worth up to 10 times as much as their first purchase.
White House Office of Consumer Affairs
#4
5-20% probability of selling to a new prospect while 60-70% probability of selling to an existing customer.
Marketing Metrics
#5
It takes 12 positive experiences to make up for one unresolved negative experience.
"Understanding Customers" by Ruby Newell-Legner
#6
News of bad customer service reaches more than twice as many ears as praise for a good service experience.
White House Office of Consumer Affairs
#7
It is 6-7 times more expensive to acquire a new customer than it is to keep a current one.
White House Office of Consumer Affairs
#8
For every customer who bothers to complain, 26 other customers remain silent.
White House Office of Consumer Affairs
#9
3 in 5 Americans (59%) would try a new brand or company for a better service experience.
American Express Survey
#10
When customers share their story, they're not just sharing pain points. They're actually teaching you how to make your product, service, and business better. Your customer service organization should be designed to efficiently communicate those issues.
Kristin Smaby, "Being Human is Good Business"
#11
Although your customers won't love you if you give bad service, your competitors will.
Kate Zabriskie
#12
70% of buying experiences are based on how the customer feels they are being treated.
McKinsey
#13
80% of companies say they deliver "superior" customer service. 8% of people think these same companies deliver "superior" customer service.
#14
91% of unhappy customers will not willingly do business with you again.
Lee Resources
#15
Resolve a complaint in the customer's favor and they will do business with you again 70% of the time.
Lee Resources
#16
Customers overwhelmingly show appreciation for great service with their wallets.
#17
Almost 9 out of 10 U.S. consumers say they would pay more to ensure a superior customer experience.
Customer Experience Impact Report by Harris Interactive/RightNow
#18
Top two reasons for customer loss:
1. Customers feel poorly treated
2. Failure to solve a problem in a timely manner
Customer Experience Impact Report by Harris Interactive/RightNow
#19
Ask your customers to be part of the solution, and don't view them as part of the problem.
Alan Weiss
#20
Over 1 million people view tweets about customer service every week. Roughly 80% of those tweets are negative or critical in nature.
#21
A dissatisfied customer will tell between 9-15 people about their experience. Around 13% of dissatisfied customers tell more than 20 people.
White House Office of Consumer Affairs
#22
Kriddik replaces the need for comment cards, suggestion boxes, info@ emails and phone calls saving time and money.
#23
Private feedback helps to motivate staff members to perform at their highest level.
#24
Effective listening to customers helps drive lower overall cost of business operation.
#25
Rewarding employees by sharing positive private feedback helps keep them engaged and positive about their jobs.
#26
Kriddik creates an army of secret shoppers.
#27
Kriddik Private Feedback helps generate comments specific to a location and not at a corporate level.
#28
Continual learning is enhanced with good customer feedback.
#29
Kriddik encourages helping and not just yelping publicly.
#30
$11 billion is lost annually due to employee turnover.
Bloomberg BNA
#31
Kriddik helps keep employees engaged and retained.
#32
Cost of replacing entry level employees: 30-50% of their annual salary.
ERE Media
#33
Kriddik helps focus training where it is needed the most.
#34
27% of workers strongly agree that the feedback they currently receive helps them do their work better.
Gallup
#35
Higher workplace engagement leads to 37% lower absenteeism, 41% fewer safety incidents, and 41% fewer quality defects.
Gallup
#36
91% of highly engaged employees always or almost always try their hardest at work, compared with 67% of disengaged employees.
Temkin Group
#37
Companies with engaged employees see 233% greater customer loyalty and a 26% greater annual increase in revenue.
Aberdeen
#38
Nearly one-third of employees would rather be recognized in a company-wide email from an executive than receive a bonus of $500.
BambooHR
#39
75% of employees receiving at least monthly recognition (even if informal) are satisfied with their job.
BambooHR
#40
85% of employees who feel their company's technology is ahead of the curve say they love their jobs.
Adobe
Load Another Fact

Your Tool Kit
$10 per month/location gives you a Premium Membership with all the tools needed to manage your private feedback. Most importantly, the Premium Membership allows you the simplicity of responding directly to each customer's feedback saving time and money.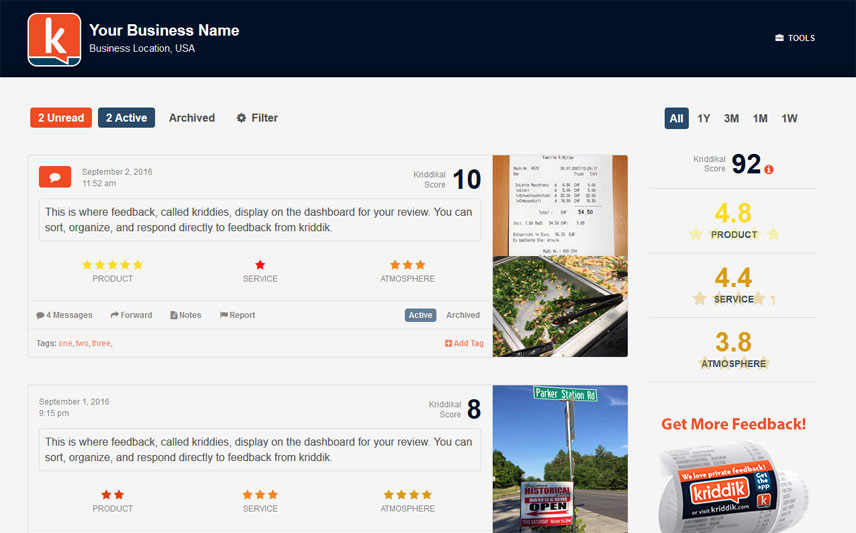 Private Conversations
With a Premium Membership, your business can discuss customer feedback privately with direct messaging. Conversations allow you to dive deeper into the customer's experience, gather additional information, and foster a personal relationship with the customer.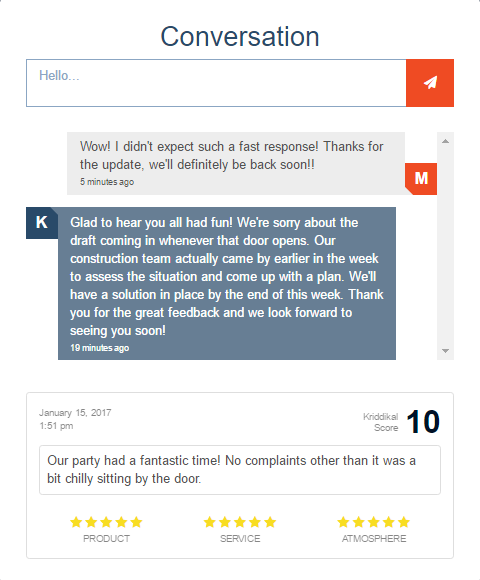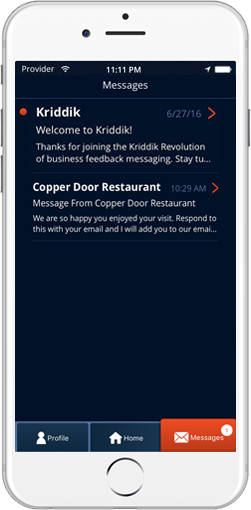 Kriddiks can reply back to you
directly from their mobile app!
Business Pricing
FREE
No Charge Ever
Premium
$10 per month
Receive private feedback from kriddiks nationwide


Manage feedback with the Kriddik dashboard

Message customers directly to discuss feedback

Add up to 5 team members to receive feedback

View average ratings and scores over time

Add tags and notes to all feedback messages

Receive free promotional material from Kriddik

Access Kriddik's featured partners for special offers